Craft-Lock® - Concealed Fix Roof Sheeting
Over 4 million square meters covered by Craft-Lock® in the last 10 years in South Africa and abroad!
The Craft-Lock® roof sheeting system is the result of years of research and wide experience in the roofing industry. The development of the Craft-Lock® sheet was aimed at eliminating disadvantages inherent in many of the existing types of roof profiles. The result is a unique long span profiled sheet that can be erected by unskilled labour with the minimum of tools, to ensure a leak proof roof due to its hidden fasteners (concealed fix). This eliminates potential leakage problems and enhances the aesthetics.
Why choose Craft-Lock®?
Unrestricted thermal movement. The unique fixing method allows for expansion and contraction of the sheeting without subjecting the fasteners to fatigue or loosening.
Double capillary action break. The double capillary break design of the interlocking mechanism of adjoining sheets ensures the prevention of ingress of rainwater by capillary action.
Ease of erection. As set out in the "Erection Procedures", Craft-Lock® sheeting can be erected easily by using unskilled labour, requiring the minimum tools. The narrow width of sheets simplifies handling and erection procedures.
Long span capacity. Owing to the depth and rigidity of the profile, long spans between purlins are possible. (Technical data and test reports are available on request.)
Water-carrying capacity. The trough-depth of 41mm enhances the water-carrying capacity of the sheet and makes low roof pitches possible.
Security. As fasteners are concealed, roof sheets cannot easily be removed from outside.
Economy. The narrow width of the sheet reduces wastage, or the necessity for cutting of sheets, thus saving on material and labour.
Profiling. Craft-Lock® sheets can be profiled on site to reduce transport costs and to eliminate transport damage. Wet storage corrosion resulting from extended unprotected storage of stacks of profiled sheets on the building site is therefore prevented.
Long lengths. As is the case with other roll profiled sheets, the maximum length of sheets is limited by transport criteria. When profiled on site, virtually any lengths can be used.
Re-usable. Another unique advantage of Craft-Lock® sheets is that they can be re-used. If a building is to be demolished, the hold-down clips can be removed to recover the roof sheets. Re-use is possible as there are no holes in the sheets.
Corrosion performance. As the side lap contact area of the profile is minimal and is well ventilated, trapped moisture cannot remain and the danger of overlap corrosion is eliminated.
Complementary accessories. All accessories such as closures, poly-closures, ridge capping, fasteners, sealant, etc. necessary to complete the most intricate roofing project can be ordered from the suppliers.
---
---
Photo-voltaic connection with Craft-Lock® available
The perfect symbiosis….made possible with the new Craft-Lock® clamp
Because of its constructional design, the Craft-Lock® roof profile offers an optimal basis for the installation of Photo-voltaic systems. The modules can be attached to the profile panels by means of specially developed Craft-Lock® clamps.
As a result, no holes are drilled in the material and thus no drilling chips are left behind on the roof shell which would accelerate corrosion and cause leaks – a significant advantage over most normal roof profiles. An extremely rational installation is thus made possible. Adding to this concept, it is furthermore possible to attach a rail system to the Craft-Lock® clamps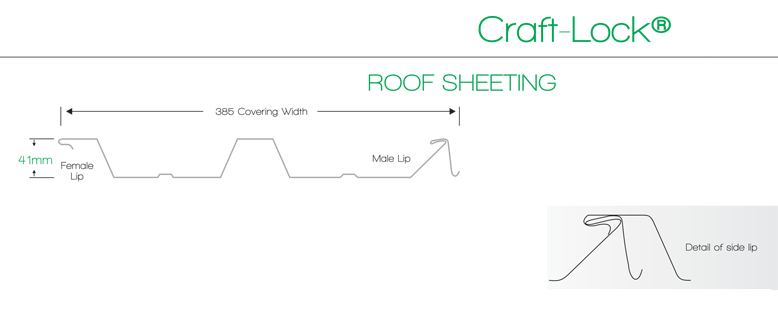 Technical Data – Craft-Lock® Concealed Fix Roof Sheeting
Profile dimensions: Effective cover width = 385 mm Depth of profile = 41,0 mm
Clotan Steel reserves the right to amend profile dimensions without prior notification or consultation. Please consult with your sales contact for relevant and updated information.
Resistance against negative loading (suction). Negative wind loads for roofs to generally do not exceed 1.5 kN/m2. Analysis shows that the Craft-Lock® interlocking fixing system can readily resist negative loads in excess of 3 kN/m2.
Profile properties. The following table reflects the profile properties of Craft-Lock® sheets, based on a theoretical analysis. Actual loading tests have been conducted to determine practical load span data. (Test reports are available on request)
1) ISQ300 conforms to SABS 0162/2
2) Values based on concentrated positive or negative loads of 1,5 kN/m2 and allow for deflections of 1/200
Minimum Pitch: 1°
Water carrying capacity. The deep trough of the Craft-Lock® profile maximises the water carrying capacity
Trough section area/sheet = 10 760 mm2
Trough section area/m width = 28 330 mm2
Volume of water/m2 of sheet = 28, 33 litres (without covering ribs)
Mass Maximum Purlin Spacing
| Material | per linear m kg/m | per m2 kg/m2 | End span m | Continuous spans m |
| --- | --- | --- | --- | --- |
| Steel Sheet | | | | |
| 0.58 mm Z275 | 2.896 | 7.26 | 1.500 | 2.000 |
| 0.55 mm AZ150 | 2.652 | 6.88 | 1.500 | 2.000 |
| Aluminium | | | | |
| 0.8 mm | 1.300 | 3.41 | 1.000 | 1.800 |
| Copper Sheet (Special order) | | | | |
| 0.6 mm | 3.229 | 8.50 | 0.800 | 1.200 |
Availability
Craft-Lock® concealed fix roof sheeting can be ordered in the following materials:
| Material and Coating | Thickness | Material Grade |
| --- | --- | --- |
| Galvanised Z200 and Z275 | 0.58 mm | ISQ300 |
| Chromadek® Z200 and Z275 | 0.58 mm | ISQ300 |
| Bluescope Zincalume® AZ150 and AZ200 | 0.55 mm | G300 |
| Bluescope Clean Colorbond® AZ150 and AZ200 | 0.55 mm | G300 |
| ZincAL® AZ100, AZ150 and AZ200 | 0.55 mm | G300 or G275 |
| ColorPlus® AZ100, AZ150 and AZ200 | 0.55 mm | G300 or G275 |
| Copper Sheet (special order) | 0.60 mm | - |
| Polycarbonate Translucent Sheets | 1.20 mm | - |
Download Craft-Lock® product brochure
Cranking
Craft-Lock® can be cranked to continuous curves (minimum 450mm radius).
Ridge cranking facilities are available to crank Craft-Lock® sheets. Radii in excess of 28m can be rolled to the required curve on site without cranking. Take note that in event of a bullnose roof detail, the female side of the roof sheet has to be closed with a bullnose lip closing tool.
The following needs to be noted regarding the profile:
An international trade mark has been obtained
It is internationally patented
For accessories also refer to Flashings
Product specification
Craft-Lock® Concealed fix roof sheeting with a male/female interlocking mechanism of which the male lip lies at 15˚, forming a double capillary action break manufactured from (1)0.58mm thick (2)ISQ 300 steel with (3)Chromadek® finish with a (4) Z 200 (5) Galvanized coating.
1. Refers to your thickness of choice
2. Refers to the correct material grade (refer to above table)
3. Refers to the desired finish (refer to above table)
4. Refers to the desired protective coating mass (refer to above table)
5. Refers to the desired protective coating (refer to above table)
The tenderer must adhere, and or agree to:
All required flashings and trimmings to be designed in consultation with the supplier and manufactured from the same specified material to prevent any discrepancies during the issue of the Workmanship Guarantee to be issued by the supplier.
Product and Workmanship Warrantee's will only apply to accredited installers of Craft-Lock® concealed fix roof sheeting.
Installation to be in accordance with the manufacturers approved and prescribed installation methods. The Manufacturer to conduct inspections at regular intervals and submit advisory reports to the architect and structural engineer.
A material certificate confirming material grade, thickness before painting, paint system and galvanized coating must be presented upon request.
Roof sheets shall be fixed to every purlin (Maximum 1800mm purlin spacing on continuous spans and 1500mm on end spans) by means of a concealed fastening bracket directly over up to 135mm thick "Blanket type" insulation installed "over the purlin" according to supplier specifications.
Brackets shall be manufactured from Galvanised steel and shall be fixed to steel purlins with one 25-50 mm long full thread self–drilling screw or with two, T 15 serrated nails to timber purlins.
Installation Instructions
Due to the sound design of the Craft-Lock® profile, high quality roofing can be erected by unskilled labour. To ensure satisfactory results, the following basic guidelines should be followed:
STEP 1: To start, place the steel Z-shaped starter bar at one end of the roof (starting), perpendicular to the purlins, as shown in Fig.1.
If necessary, starter bars may overlap, provided that a lap length of 200 mm is allowed. Two fasteners should be used for fixing to each purlin; coated or s.s screws (50 mm min.) or galvanized nails (75 mm min) should be used for timber purlins, or one coated or s.s self-tapping screw (5 mm diameter x 12 mm long) for steel purlins. No rivets should be allowed.
STEP 2: Ensure that profile is concave to achieve pre-stressing on the centre rib. Hook the first roof sheet over the starter bar (as shown in Fig. 1) by holding at an angle of 45° and apply stress in the direction of the arrow while lowering the sheet to ensure a snug fit.
Fix the first sheet in position by hooking the stainless-steel fastening bracket over the male lip and fix it to the purlin with two fasteners (as described above for starter bar). (Fig. 2). Subsequent sheets are fixed in the same way, using the fixed sheets as platform. (Fig. 3) Apply even horizontal stress on each sheet before fixing brackets, to ensure proper nesting of the overlap joint. Note: Hurricane screw. It is recommended that a stainless steel self-tapping screw be used on the overlap of each sheet, at the lower end (eaves) of the sheet. Through to be bent up 30 mm on the top end of the roof sheet (head wall) or ridge to form a stop end. At the bottom end of the sheet to be bent down by 20 mm to form a drip (eave).
Eave and Ridge Closure
These are standard punched fixtures fitted to a roof laid to the right or to the left and must be ordered as such. The 45° fillet is used in a hipped roof or similar situation.
Contact us for Craft-Lock® Sheeting